Epic Journeys
Get a feel of Kota Kinabalu's stunning sea-side position on the North Borneo Cruise.
Sandwiched between a dramatic mountain range and a coastline overlooking the jungle-clad islands of a protected marine park, the state capital of Sabah is a laid-back coastal city we find best admired from the water. Get a feel of Kota Kinabalu's stunning sea-side position with a combination of sumptuous cuisine, breezy sea views and live music onboard the North Borneo Cruise.
An international buffet perfectly paired with charming scenery for an unforgettable evening at sea.
First of its kind in Sabah, the North Borneo Cruise takes you on a 2-hour scenic cruise past the islands of Tunku Abdul Rahman Marine park and down the central coast gliding along the city's famous Waterfront.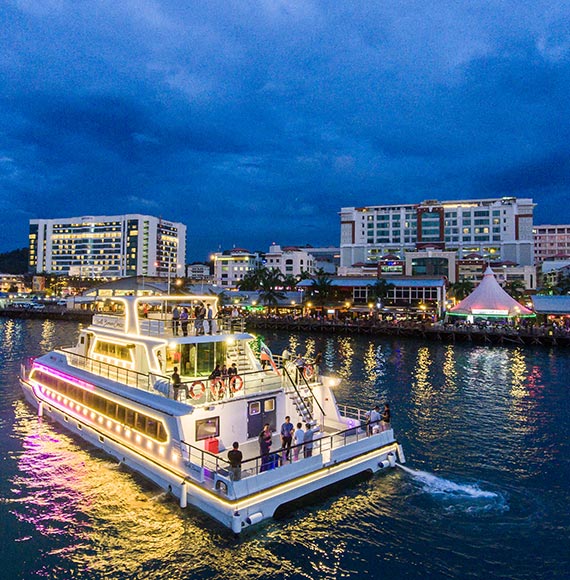 Stunning ocean views and gentle sea breeze greets you on the sun-deck. Irresistible live music awaits you on the dancefloor.
The dinner cruise fondly named 'Luna' makes the most of its ocean views by featuring a sun-deck that openly greets the gentle breeze of the South China Sea, along with what the city of Kota Kinabalu is most famous for, the blazing sunsets. On the main deck, an air-conditioned, fully enclosed and unimpeded by weather, buffet dining area combines sightseeing with on-stage live performances. Large windows framing the scenic allure of nature on the outside isn't the only thing that commands attention. Front and center, an intimate platform stage with quality entertainment tempts diners to let loose on the dancefloor.
Celebrate Life
There's so much in life worth celebrating. You can start with our stunning venue.
A unique location for a truly memorable occasion. Build to accommodate up to 100 pax per session, the gracefully designed vessel makes for the perfect venue to host a multitude of events at sea. Celebrate special moments on our stylish upper sun-deck, propose to someone out at sea as the sun goes down or host an unforgettable private-chartered event for the whole office. For an extra bit of exclusivity, the VIP Deck boasts a private room equipped with a Karaoke audio and visual sound system best suited for birthday parties and business meetings of up to 30 people. The interior remains true to its North Bornean roots. tribal décor accentuates the ambience with intrigue and vibrancy, at the same time showcase the traditional handloom weaving skills of North Borneo's indigenous Rungus Tribe.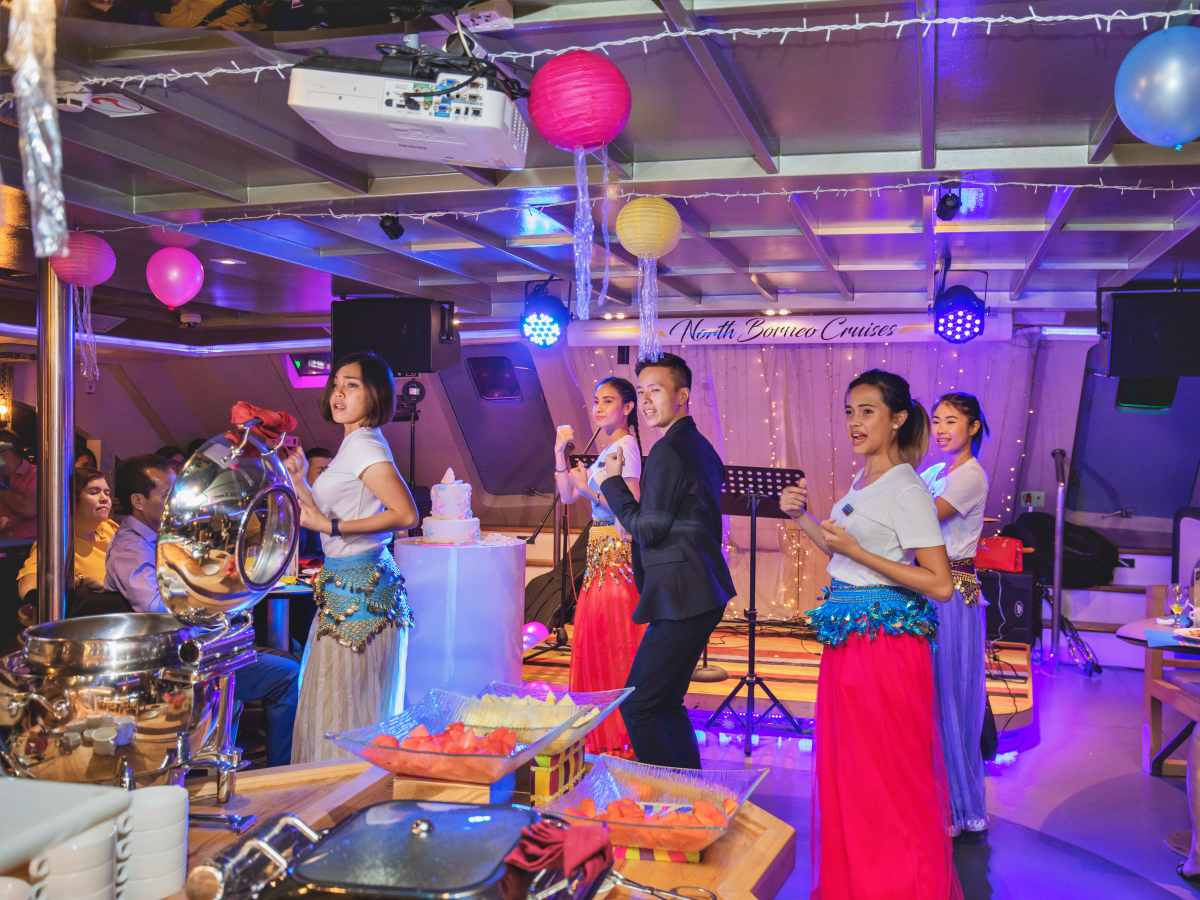 Impeccable service and top safety standards.
Our high safety standards are just one of the many ways we put your mind at ease. The cruise is meticulously maintained and carefully checked between sessions by our team of dedicated deck-hands while our highly-trained service crew make sure you have a wonderful time, from the moment you step aboard until you disembark.
The North Borneo Cruise not only invites you for a meal with a view.
We invite memorable moments, cultural insight, conversation, laughter, toasts to friendship, declarations of love and singalongs on the dancefloor. There's just so much in life worth celebrating, hop onboard!