About North Borneo Cruises
North Borneo Cruises aim to dazzle you with breathtakingly scenic cruises like no other, complete with lavish dinners and buffet meals. Pass by water villages and tropical island paradises, view a world class sunset while being wined and dined. After dinner, the perfect end to a perfect evening as we cruise by Kota Kinabalu waterfront to see the beautiful city lights.
Cruise Route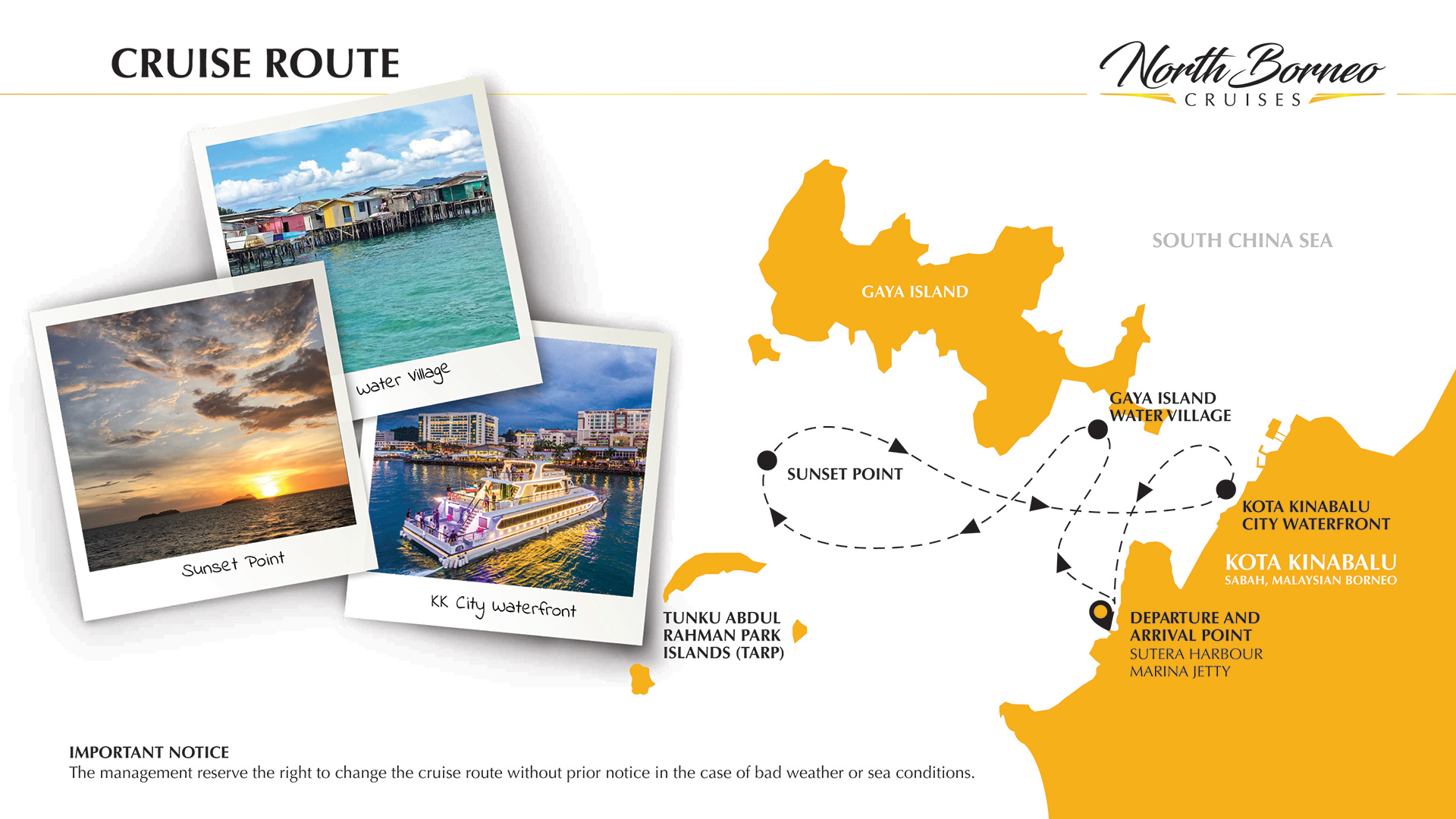 Safety Procedures
At North Borneo Cruises, the safety and well-being of our valued passengers are our highest priorities. We are committed to providing you with an exceptional and worry-free experience on board. In strict compliance with international maritime regulations, we have implemented comprehensive safety procedures to ensure your utmost protection.
Our cruise will span approximately 2 hours, taking you on a journey across the captivating South China Sea, through the pristine Tunku Abdul Rahman Marine Park, and along the picturesque waterfront of Kota Kinabalu city. Before our ship sets sail, our highly trained crew will conduct a thorough safety briefing session, guiding you through essential safety procedures and emergency protocols. This ensures that you are well-prepared and confident right from the start of the cruise.
In the unlikely event of an emergency, our evacuation signal will consist of 7 short blasts followed by 1 long blast. Please pay close attention to any announcements made by our crew members, as they will provide crucial instructions to guarantee your safety.
Upon hearing the evacuation signal, please retrieve your life vest from the drawer beneath your seat. Proceed to the designated emergency staging area, known as the muster stations, as directed by our crew. Detailed instructions on how to properly wear your life vest, along with the locations of the muster stations, can be found in the diagram provided below.
Your life vest is equipped with additional safety features to ensure your well-being. In the event of low air pressure, you can easily refill the vest by blowing into the mouthpiece. Furthermore, your life vest includes a whistle for attracting attention and a bright LED light that will automatically activate upon contact with water.
In the unfortunate event of smoke or fire, please remain close to the floor and move in a low crawl towards the nearest exit. Our emergency lights will automatically illuminate, guiding you towards the closest exit and the designated muster stations where you can gather with fellow passengers.
To maintain a safe environment for all guests, smoking on our cruise ship is strictly limited to designated area outside the restaurant. We kindly request that you refrain from disposing of cigarette butts, matches, or cigar ends over the side of the ship.
Rest assured that at North Borneo Cruises, we are fully dedicated to your safety and will spare no effort to provide you with a memorable and secure voyage. Please sit back, relax, and embark on an extraordinary journey with us.