Cruise Duration
9.30 - 10.30AM
Want to explore the beauty of Tunku Abdul Rahman Park (TARP) without getting wet and sandy? This daily one-hour cruise session is perfect for the leisurely traveller who wants to enjoy the pretty sights of Kota Kinabalu's islands from a luxurious perch!
Sailing out from Sutera Harbour Marina Jetty into the glittering blue sea, the North Borneo Cruises brings you on a leisure voyage to kiss the shorelines of the popular Gaya Island and Sapi Island, with Kota Kinabalu's skyline as a panoramic backdrop. Feast your eyes on the active scene before you - as sunseekers swim and snorkel off the sandy beaches, shrieking adrenaline junkies zipline from one island to the other, colourful parasailers glide by in their parachutes, and fishermen from the water villages paddle out to sea - all from the comfortable sundeck of a triple-deck cruise, savouring the cool sea breeze while sipping on a refreshing drink. If the skies are clear, you can even spot majestic Mount Kinabalu standing tall as a sentinel guarding the coastal town from the far distance.
Be completely relaxed while you peacefully enjoy the "smiley face" of Kota Kinabalu's islands from a unique perspective.
Kota Kinabalu Islands Morning Cruise Itinerary
Tunku Abdul Rahman Park
As the North Borneo Cruises departs from Sutera Harbour Marina jetty towards Tunku Abdul Rahman Park, indulge in the light refreshments served and snap pretty pictures of the scenic moments!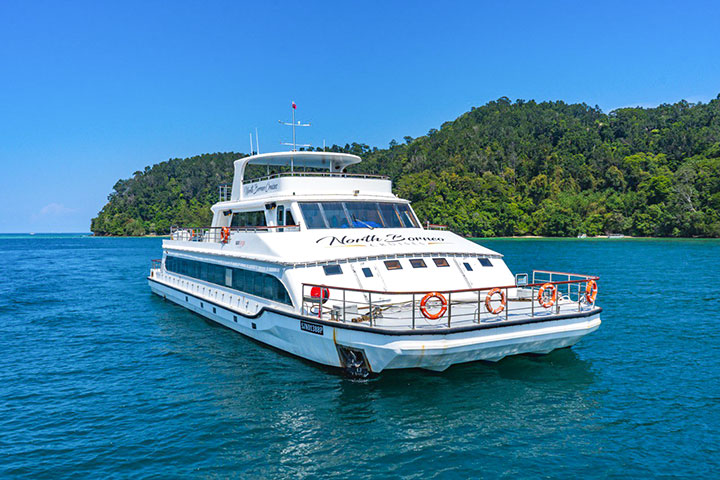 Tunku Abdul Rahman Park
Cruise slowly along Sapi Island and Gaya island, over waters so crystal clear that you may even spot little fishes darting around healthy coral reefs. You can observe the water villages dotting the island landscape, and enjoy a live movie of the islands bustling with sun-lovers.
After a leisure hour onboard, we will return back to the jetty with the tropical sun overhead.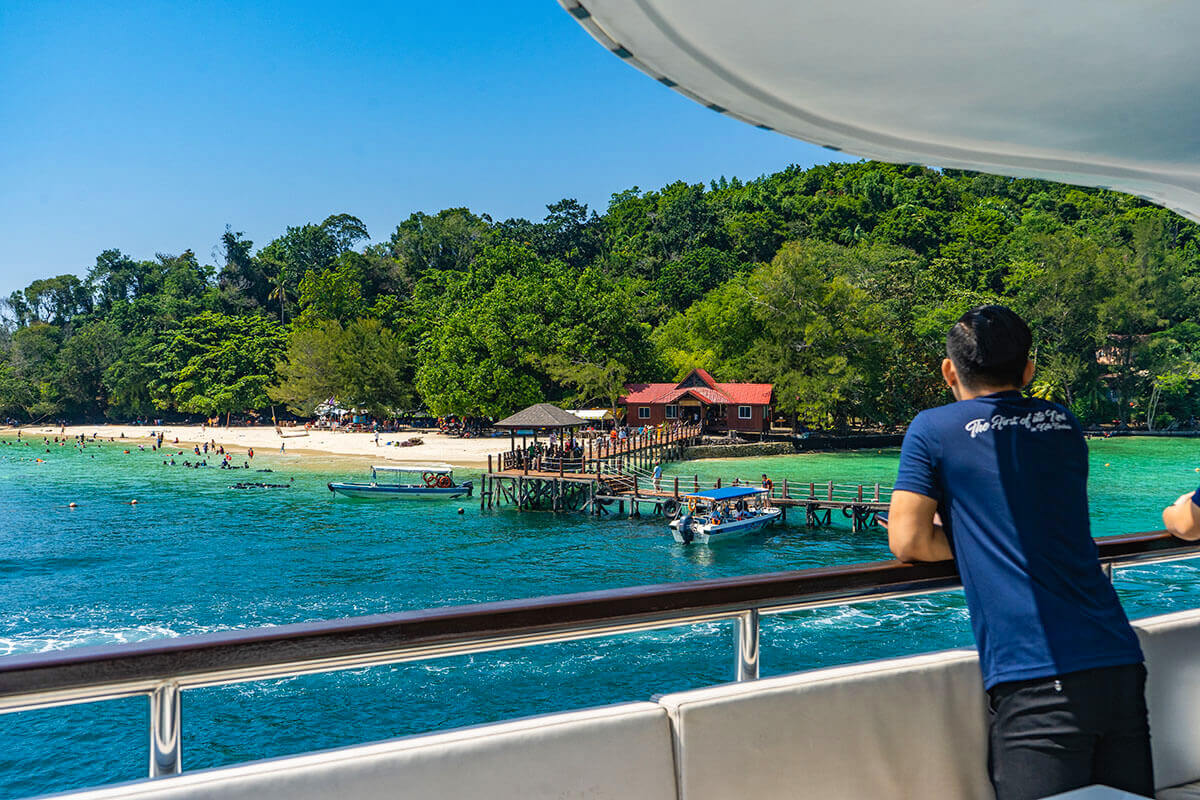 Sutera Harbour Jetty
Disembark at Sutera Harbour Jetty, concluding the Kota Kinabalu Islands Morning Cruise.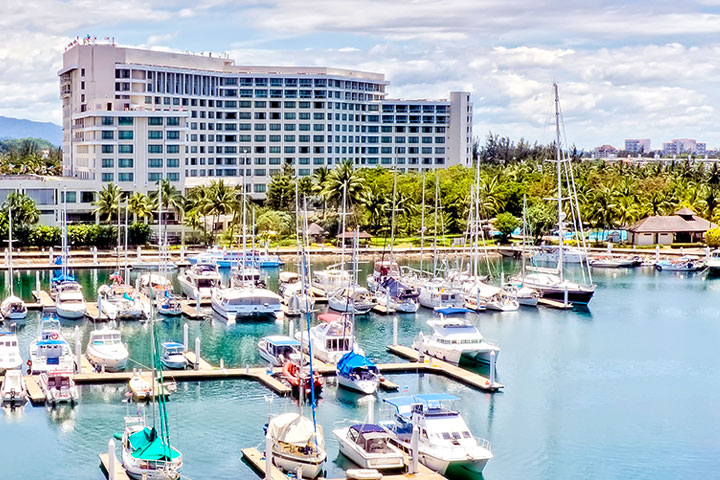 Inclusion
Jetty fees, 01-hour cruising, Tidbits, Free flow coffee, tea, & drinking water, English-speaking crew
Exclusion
Return transfer (optional) and any items not mentioned
HOW TO GET HERE
Meet up location: Sutera Harbour Marina Jetty.

Watch the video here to see the shortest walking route to North Borneo Cruises registration counter.
Find us on Google Maps.
THINGS YOU SHOULD KNOW
Kindly note that all rates shown are subject to change without prior notice.

All guest particulars must be submitted at least 48 HOURS prior cruising date.

Postponement Fee of RM 50/person applies for any rescheduling of booking within 3 days of travel date.

All North Borneo Cruises rates are inclusive of 0% Goods & Services Tax (GST).

Tables and Seats are allocated onboard the cruises, sharing-table basis. Your seat will be allocated according to safe distancing guidelines.

A surcharge of MYR150 per table will apply if you wish to reserve a private table by the window. Please check with our Tour Consultant for availability.

Additional Peak Season surcharges for the following Public Holidays & Eve of Public Holidays (All Market & Sessions):
• 1 Jan [Sun] (New Year's Day)
• 2 Jan [Mon] (New Year Holiday)
• 21 Jan [Sat] (Chinese New Year)
• 22 Jan [Sun] (Chinese New Year)
• 23 Jan [Mon] (Chinese New Year Holiday)
• 24 Jan [Tue] (Chinese New Year Holiday)
• 7 Apr [Fri] (Good Friday)
• 22 Apr [Sat] (Hari Raya Aidilfitri)
• 23 Apr [Sun] (Hari Raya Aidilfitri Holiday)
• 24 Apr [Mon] (Hari Raya Aidilfitri Holiday)
• 1 May [Mon] (Labour Day)
• 4 May [Thu] (Wesak Day)
• 30 May [Tue] (Harvest Festival)
• 31 May [Wed] (Harvest Festival Holiday)
• 5 Jun [Mon] (Agong's Birthday)
• 29 Jun [Thu] (Hari Raya Haji)
• 19 Jul [Wed] (Awal Muharram)
• 31 Aug [Thu] (Merdeka Day)
• 16 Sep [Sat] (Malaysia Day)
• 28 Sep [Thu] (Prophet Muhammad's Birthday)
• 7 Oct [Sat] (Sabah Governor's Birthday)
• 12 Nov [Sun] (Deepavali)
• 13 Nov [Mon] (Deepavali Holiday)
• 24 Dec [Sun] (Christmas Eve)
• 25 Dec [Mon] (Christmas Day)
• 31 Dec [Sun] (New Year's eve)
---------------------------------------------------------------------
• 01 Jan 2024 [Mon] (New Year)
• Adult = Additional RM50
• Child = Additional RM30

Single traveller bookings are accepted.

Additional Peak Season Charges are applicable during Daily Departure Sessions for Public Holidays & Eve of Public Holidays.

Optional Return hotel transfers (KK City Hotel/Sutera Marina Jetty/KK City Hotel) are available at MYR 30/pax.

Children Policy:
1. Child rate is applicable for Children aged between 3-11 years old.
2. Infant Rate is applicable for Infants aged between 0-2 years old.
3. No seats will be allocated for Infants.

Full payment is required to confirm your reservations and board the cruise. North Borneo Cruise reserves the right to refuse boarding for any customer who has not yet made payment for their reservations.

Change of Name request after initial guest particulars submission is subject to an admin fee of MYR 20/name.
TERMS AND CONDITIONS
"Adverse Weather Conditions" FAQ:
Only if you have purchased our "Rain Check Flexi" Cover, you will get a refund for your North Borneo Cruises tour ticket in case of bad weather (excluding "Rain Check Flexi" Cover Fee). You will receive the refund within 14 - 28 working days after the cancellation of your tour.

Alternatively, we encourage you to purchase the "Rain Check Basic" Cover which allows you to reschedule your North Borneo Cruises tour to another date, up to 2 hours prior to the boarding time if you are uncomfortable to proceed based on unfavourable weather forecasts.

If you have NOT purchased either of the above mentioned covers, there will be NO refund should you decide not to proceed with the North Borneo Cruises tour.

In the unlikely event that North Borneo Cruises is unable to operate on that day and provide its standard food and entertainment services and facilities use (apart from bad weather and sea conditions), you will be given options for alternative cruise dates or compensation for services not received.
We strongly recommend you to bring your own umbrellas in the event of rain, as the walkway to the cruise at Sutera Marina Jetty does not have shelter. North Borneo Cruises does not provide umbrellas for use.
For more Frequently Asked Questions, please refer here.
TALK TO OUR TRAVEL CONSULTANT
We're here to chat about your next tour with us.
9.00am - 6.00pm (GMT+8) Monday through Friday.

9.00am - 1.00pm (GMT+8) Saturday
Otherwise, email us anytime. We will be working hard on your request and shall get in touch with you with more details as soon as possible or within 24 working hours, whichever comes first.